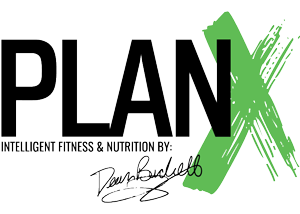 PLAN X -12 Week Online Fitness and Nutrition Course
Plan X is a 12 week online fitness and nutrition course which can help kickstart your health and fitness journey, or if you want to take your exercise regime to the next level, we are passionate about helping people achieve their goals. Offering quality advice and guidance every step of the way, we offer the complete health and fitness package designed to transform and change our client's lifestyles for the better.
Based in Plymouth and South East Cornwall, and with our team including qualified personal trainers, nutritionists and chefs, we make the process of getting healthy fun by offering a realistic and affordable personalised training and nutrition programme built around you.
A healthy lifestyle doesn't just start and stop in the gym, and Plan X can help you to make the right choices for your health, fitness and diet. Having fun and enjoying the benefits throughout the course and beyond.
You will receive a totally bespoke fitness and nutrition plan, designed specifically for you – including access to nearly 500 recipes, including Plant Based, Vegetarian and Vegan options.
We are available 24/7 if you have any questions that you want answered by email. Remember, we have qualified personal trainers, nutritionists, chefs, weight management specialists and a Chiropractor all as part of our team, so you can be confident we can help – no matter what your question or support needs might be.
All of the recipes provided through Plan X are also fully integrated into MyFitnessPal. With a quick barcode scan you have access to the full nutritional and macro information – it couldn't  be simpler.
Take a look at our Facebook page for full details.